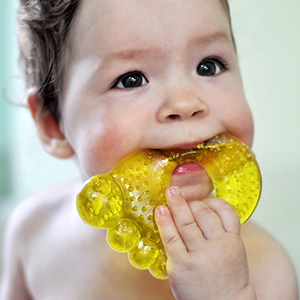 Teething is an important phase in your baby's dental maturity. During the approximate two-year process, they will acquire their first set of teeth.
It can also be an unpleasant two years as each tooth sequentially breaks through the gums. The severity of teething problems differs with each child, but there are common signs: irritability, biting and gnawing, chin rash, drooling or ear rubbing among them. Although for most babies the discomfort isn't that great, the pain can occasionally be a lot for them — and their care-givers — to handle.
Although having a very unhappy infant can be nerve-jangling, there's no real cause for concern health-wise. If, however, they begin to run a fever or experience diarrhea, that could be a sign of something more serious. In those cases, you should see a doctor as soon as possible.
Otherwise, there are some things you can do to make them more comfortable during teething episodes. One thing to remember: cold items for biting or gnawing usually work wonders. So, be sure you have chilled teething rings or pacifiers (but not frozen — the extreme temperature could burn their gums). For older children, an occasional cold food like a popsicle can bring relief.
You can also try massaging the gums with your clean finger, which will help counteract the pressure of an erupting tooth. But avoid rubbing alcohol or aspirin on the gums, and you shouldn't apply numbing agents to children less than two years of age unless advised by your doctor.
If their pain persists, it's permissible to give them a mild pain reliever like the appropriate dosage for their age of baby acetaminophen or ibuprofen. Again, you should give this by mouth and avoid rubbing it on the gums.
By the time they're three, all their primary teeth should be in and teething symptoms should have largely dissipated. In the meantime, make them as comfortable as you can â?? in no time the unpleasantness of teething will pass.
If you would like more information on coping with your child's teething, please contact us or schedule an appointment for a consultation. You can also learn more about this topic by reading the Dear Doctor magazine article "Teething Troubles: How to Help Keep your Baby Comfortable."